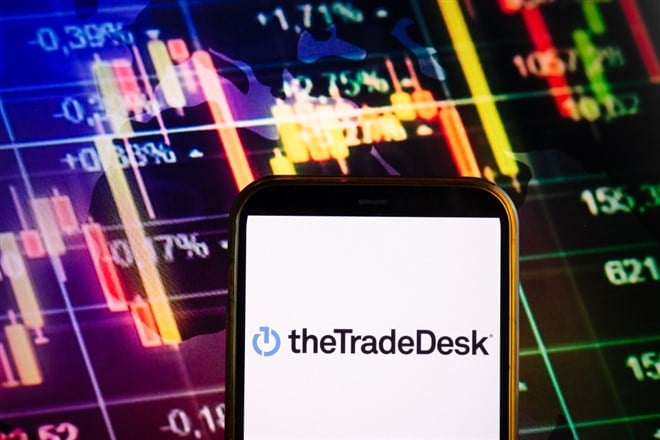 The Trade Desk Inc. (NASDAQ: TTD) is treading a fine line as we head into 2023 and, from a technical standpoint, looks set to keep investors on their toes. Let's dive in. 
The Trade Desk operates one of the world's largest digital ads services across all devices and streaming platforms. It benefitted from the pandemic, where most of the population was stuck at home and surfing the web all day. But over the past year, it's given up much of its lockdown fuelled gains.
However, shares are still trading more than 40% higher than their pre-COVID levels, which is a lot more than some other tech stocks can say, so the question has to be asked, is this worth a punt in 2023?
Bullish Fundamentals
Their most recent earnings reports point to decent momentum fundamentally, with Q3 revenues jumping 31% to $395 million. This comes despite similar ad-focused stocks like Alphabet Inc. (NASDAQ: GOOGL) only recording growth of 6% and Meta Platforms Inc. (NASDAQ: META) failing completely by recording an actual drop of 4%. Investors have further fundamental reasons to be optimistic about the Trade Desk considering their most recent EPS reading was 44% higher year over year. 
Despite Piper Sandler's Matt Farrell pointing to the overall uncertainty in the digital advertising industry, he's still optimistic about the future of The Trade Desk. Despite the recent performance, his Overweight rating and price target of $60 point to good times ahead.
Indeed, from where shares closed on Wednesday, this suggests there's an upside of some 30% to be had from current levels. In a recent note to clients, he said, "while the macro could prove to be choppy in the near term, we expect Trade Desk to continue to outperform regardless." 
Besides being the leading independent demand-side platform in the industry, The Trade Desk can boast an impressive customer retention rate above 95%. This level of dedication is fairly rare in the industry. It is not to be overlooked when considering the stock's potential to recover and rally once again as the economy recovers. 
Technical Setup
So while The Trade Desk may display some positive numbers on paper, the charts suggest a different story. We are seeing a potential head and shoulders pattern emerge on a longer-term three-year timeframe, making some bulls nervous.
The $40 line of support has to hold in the coming weeks to give shares a chance to consolidate without giving up further ground. A drop below could spark panic and confirm that The Trade Desk is on track to undo all its gains of the past few years completely.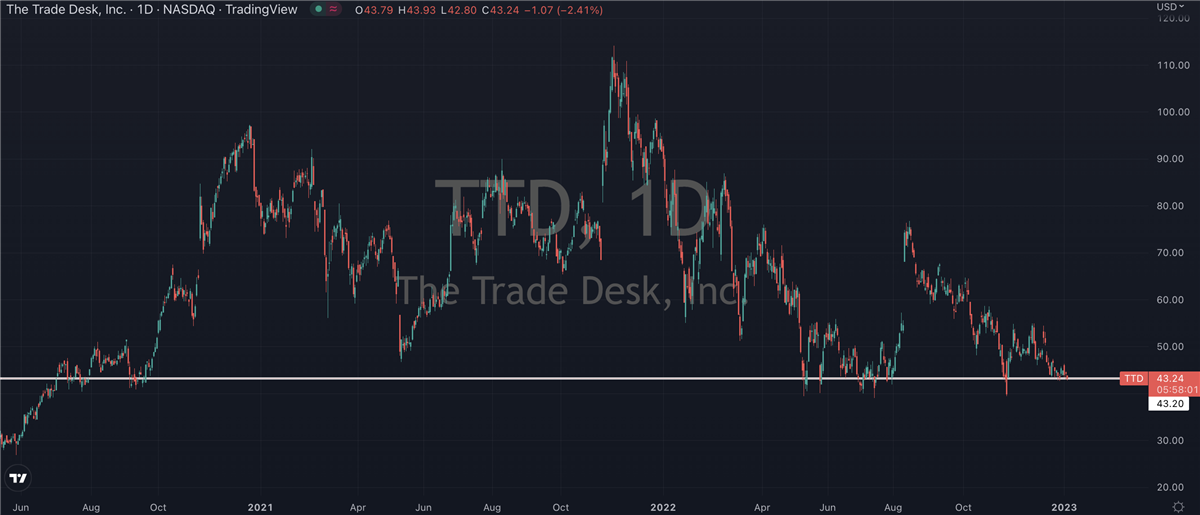 Investors should be cognizant that The Trade Desk is following what is now considered a very traditional mode of digital advertising. Whereas millennial users and those of Gen Z are shifting to AI and the multiverse, the Trade Desk could lose market share if it doesn't find a way to pivot. 
Getting Involved
Analyst James Heaney from Jefferies is also cautious about the stock, saying last month he expects 4% annual revenue growth for fiscal 2023 versus the current consensus of 14%. Heaney cited that global ad spending and gross domestic product are highly correlated, and Jefferies economists expect a recession to hit in the third quarter of 2023.
This would put a considerable dent in the digital advertising industry, and investors thinking about getting involved with The Trade Desk should be conscious of this risk. 
If shares can hold the $40 line and the much-anticipated recession can be abated somewhat, then there's a lot to like about The Trade Desk. But you can't help but wonder if now is still too early to back up the truck and if there are safer stocks out there. It's one for investors to keep an eye on and have on a watchlist.