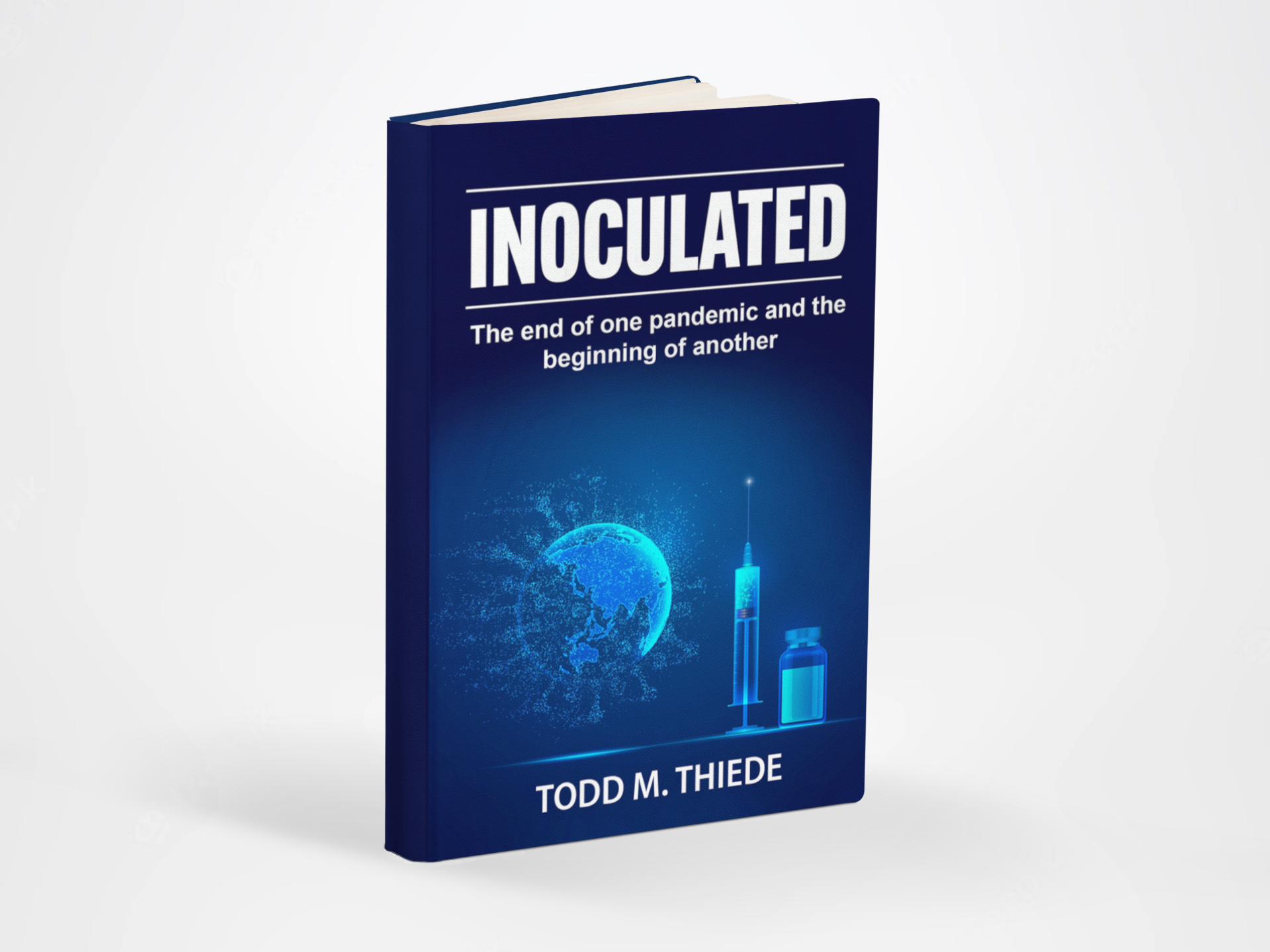 Filled with tension and intrigue, Inoculated: The End of One Pandemic and the Beginning of Another by Todd M. Thiede combines conspiracy theories with a grim reality to bring to life one of the world's greatest fears.
Inoculated: The End of One Pandemic and the Beginning of Another is a ground breaking political thriller that brings to life a virus deadlier than Ebola and COVID-19 combined. Nobody is safe in this action-packed novel being played out on the world stage, where members of global covert organizations unite to form a ragtag team of highly capable individuals ready to save the world from its own destruction.
"The pandemic and all of the conspiracy theories out there lead me to my plot line. As my fifth political thriller, I wanted to write about something a lot of people believe could happen in this world," says Todd M. Thiede. A 6X best-selling and multi-award-winning author, Thiede specializes in writing fast-paced thrillers grounded in reality. A story that both entertains and enlightens, Inoculated showcases the harrowing reality of what the future could be in a way that will stay with readers long after the last page is turned. "My goal is to help readers see what could possibly happen in our world using real life conspiracy theories that some people feel are very possible."
The story opens with the world facing a new, enigmatic disease: the Darmstadt virus. Deadlier than Ebola and COVID-19 combined, members of the world's political elite are racing to find a vaccine to stop it from wiping out the human race. Justin Martin, a doctor run ragged on the front lines in Houston, Texas, is apprehensive when Zynata Pharmaceuticals creates Marvent, a miracle vaccine approved only days after the FDA announced they were years away from a cure. Strange reports of mind-altering side-effects ranging from missing time to psychotic episodes do not reassure him that the cure is worth the risks. As more people receive the vaccine, Justin is in a race against time to reveal his findings, but nobody will listen. With past training in SEAL Team 6, he calls in favors and joins with unlikely forces in the hopes of creating a cure to negate the vaccine's devastating side-effects and distribute it to every living person on the planet.
The book weaves together several standout features that put it in a class of its own. Thiede's writing is fast-paced and immediate, with many scenes that will keep readers on the edge of their seats. The protagonist, Dr. Justin Martin, is a carefully crafted hero that readers will understand and relate to. In addition, themes of crisis, politics and freedom tie the work together in a memorable way, showing that life, no matter how challenging, always finds a way to continue.
Inoculated: The End of One Pandemic and the Beginning of Another has received positive reviews from some of the most well-renowned literary organizations, authors, and reviewers around the world. Book Excellence writes, "Inoculated explores a dark and twisted worldwide catastrophe that opens the door for a nefarious plot to dominate all of humanity. Sharply written with unexpected twists and turns, Thiede's immersive world propels a deeply satisfying adventure."
In times of unprecedented change, Inoculated: The End of One Pandemic and the Beginning of Another serves as a harrowing reminder about what the future may hold for our society. The book is available on Amazon. Fans of dystopian fiction and political thrillers are encouraged to purchase their copy today: https://www.amazon.com/dp/B0BCX5W7FN
About the Author
Perhaps you wouldn't characterize the Finance Manager of your local automobile dealership as an Amazon best-selling author--until you get to know Todd Thiede. He has worked for the past decade at Elmhurst Toyota, but Thiede is in the driver's seat as the writer of a murder mystery series featuring his hero Detective, Max Larkin. "Time Killer," which Kirkus Reviews deemed "a fast-paced thriller" that will "keep crime and thriller fans wrapped up in its twisting plot, fast pace and memorable detective,", "Lies To Die For" (which reached No. 1 on Amazon in the "Serial Killer" category), Miss Me? (3rd in the series) and Slashtag (4th in the series) are available via Amazon Kindle. To learn more, please visit: www.toddthiede.com
Connect with Todd M. Thiede on Social Media
https://www.facebook.com/todd.thiede/
Media Contact
Company Name: Author News Network
Contact Person: Media Relations
Email: Send Email
Country: United States
Website: authornewsnetwork.com