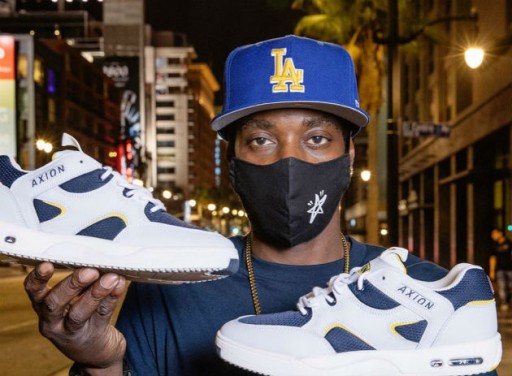 VENTURA, Calif. - October 24, 2020 - (
Newswire.com
)
AXION Footwear is back!
The long-anticipated return of AXION Footwear is REAL. After months of incubation, procuring the right team, and researching the archives, creating, and cultivating for the future; owners Eric Stalker and Partner/President Steve Harden are ready to announce to the world that Axion is back.
The brand teamed with OG skater and original founder of Axion Footwear, Kareem Campbell, as Partner/Creative Director, Dustin Deardorf, Footwear Design, Jeff Pool, VP of Sales and several other key players with decades of experience in the skateboarding world, with brands including adidas, DC, Sole Technology, Supra, Oakley, VF and others. Steve Harden, former President of Supra & KR3W stated, "We are ecstatic to have such a world-class team surrounding us as we (re)launch Axion. The initial response from retailers, international distributors and most importantly, consumers, has been remarkable, exceeding even our wildest imaginations."
Axion Footwear went live on Thursday, Oct. 15 at 10:15 a.m. PST, with early access to consumers that signed up at www.axionfootwear.com. Axion launched their website as a tribute to OG skater Guy Mariano with a remake of Axion's bestselling shoe the Mariano renamed Genesis as the first of things to come. Eric further added, "The (re)launch was intended as a small capsule and tribute to our rich and iconic history. Nobody, including me, would've guessed we'd sell out in less than 36 hours, THANK YOU!"
Axion plans to have 2 additional small capsule releases during 4th quarter 2020, closely followed with retail and international distributor introductions for Spring/Summer '21, supported by a robust marketing and social media campaign to spread the word and invite more consumers to become part of the Axion crusade. Everyone at Axion is excited about the brand and our rollout strategy and reminded by our biggest fans that, "Axions speak louder than words!" Kareem, Eric, and Steve agree, "Our internal motto is AXIONS SPEAK LOUDER THAN WORDS!"
Eric asserted, "Acquiring and relaunching Axion to the global marketplace has been a dream of mine since my youth, and now it is a reality. Axion was the brand that everyone talked about and wore. It wasn't just a shoe company, it was a statement, more than that a way of life. Now we get to create the next chapter of Axion, and I truly hope it fills the void that everyone has had since its original departure with paying homage to its legacy and that the future of the brand reclaims its status in the industry among an entirely new generation."
Press Release Service by
Newswire.com
Original Source:
Axion is Back!